Trying something new today. Have been up for hours due to my poor Lindz being sick. I woke up around midnight to the sound of barfing. I didn't jump out of bed right away, I think I hoped it was a dream or not what I thought it was. But then Lindsay came into my room and told me she'd puked. Thankfully, most of it got into the toilet/garbage can. Poor thing was up the rest of the night off and on, vomiting. I slept a little in-between episodes, but I don't think she did. She hardly ever gets sick, and she's missing a fun Track & Field day at school, so I feel bad for her. I don't have much creativity in me, but wanted to do
something,
so thought I'd try out
Five Question Friday
for a change.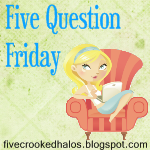 1. If you had to choose, how would you prefer to choose to spend money...on landscaping or a pool?
Well if that includes the money for upkeep/sprinklers/etc, I'd have to choose the pool. Who cares if my yard looks nice or not, the kids and I would love to be able to jump into a nice cool pool on a hot summer day!
2. (Scott likes to get things stirred up...) Death penalty,
yay
or nay?
Ugh. Ask me back in college after reading, "Dead Man Walking" and I'd for sure say nay. Back then it was all about the lack of fairness in the court system and partly about the whole "turn the other check" bit, but now I'm not so sure. I'll leave it at that.
3.
What's the worst thing your kid has gotten into when you turned your back/blogged/showered/blinked?
Well there was the time I found Kera had used a kid's stamp to "tattoo" her face. She had stamps all over it. Or the time Lindsay colored the bottom of her feet with a marker down the craft area and then walked all over the house, leaving pink footprints everywhere.
4.
How often do you REALLY go to the dentist?
I actually do go to the dentist twice a year, about every 6 months. I hate it, but I do it because I'd rather get my teeth cleaned than a cavity filled. Now, ask me how often I REALLY floss and I'll tell you the truth: I do it everyday right around the time of my dentist appointment, but after a while it becomes more like every other or every 3 days. It's cyclical.
5. What is your favorite animal (doesn't have to be a pet-type animal)?
Definitely, without a doubt, a giraffe. Love their long, lush eyelashes and long, graceful necks. Love their coloring and their demeanor. They are just plain cool. When I was a kid, some very dear friends of the family gave me two personalized storybooks about the adventures of a little girl named Kendra and her giraffe friend named Ardnek. (notice anything?) Ever since I read those books (and I still have them) I had an affinity towards giraffes, especially ones like Ardnek.